"Mental Health is Rooted in the Body.
Physical Health is Shaped by the Mind."
Hi! I'm Katerina.
Thank you for being here.
My work and this website are dedicated to empowering you to reduce stress and anxiety naturally by taking charge of your own health and happiness.
The information and inspiration you'll find here will change your life.
Combining holistic traditions from around the world with modern science, you're going to learn how to:
• Reduce stress and transform anxiety
• Feel confident in your choices
• Love the way you feel in your body
• Replace self-sabotage with positive action
• Heal old wounds and release past trauma
• Infuse more joy into your everyday
• Grow into the person you most want to be
I can't wait to see where this takes you.
Some places that have featured Katerina









About
As a lifelong learner, I'm not going to tell you I have all the answers.
(And if I can give you only one tip, it's not to trust anyone who says they do!)
What I do have is more than a decade of focused study exploring what it means to live a good life.
And I don't just mean schooling (though I've had plenty of that!)
Over the years I've collected dozens of teachers, in the form of wise people as well as lessons that Life itself allowed me to learn.
And through this journey I've been entrusted with an extensive toolbox of experience and information to share with you, if you happen to want it, especially when it comes to healing the root causes of stress and anxiety.
With an M.S. in Chinese medicine, a B.A. in psychology, studio art, and A.L.A.N.A. (Asian, Latin, African, Native American) studies, and multiple certificates in yoga and medicinal herbalism, I work as a Mind-Body-Spirit health practitioner and educator.
I help the people I work with transform their mind, body, and life through online courses, live workshops, and one-on-one coaching.
And I also teach classes and workshops at the National University of Natural Medicine, MamaSpace Yoga, and around the world.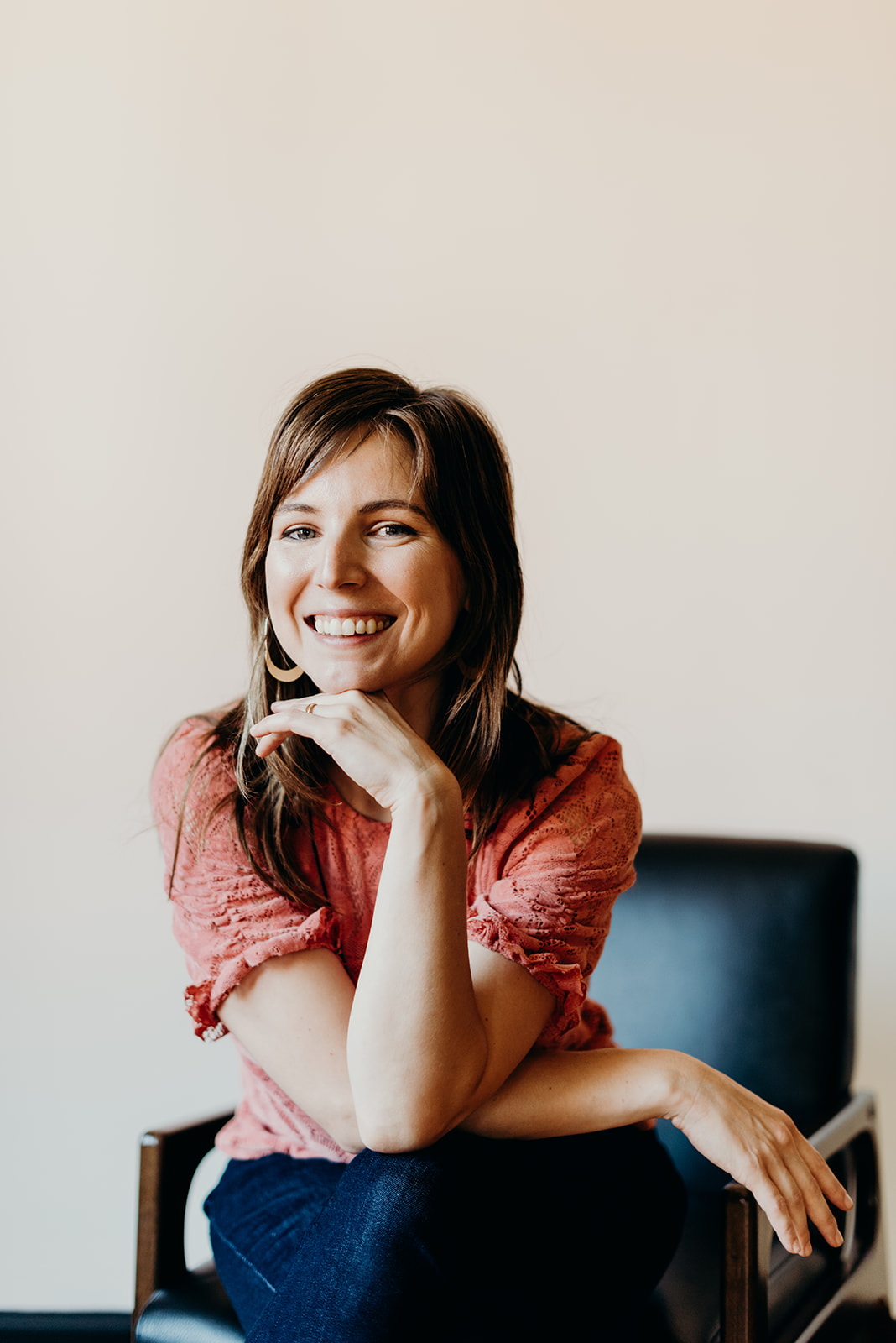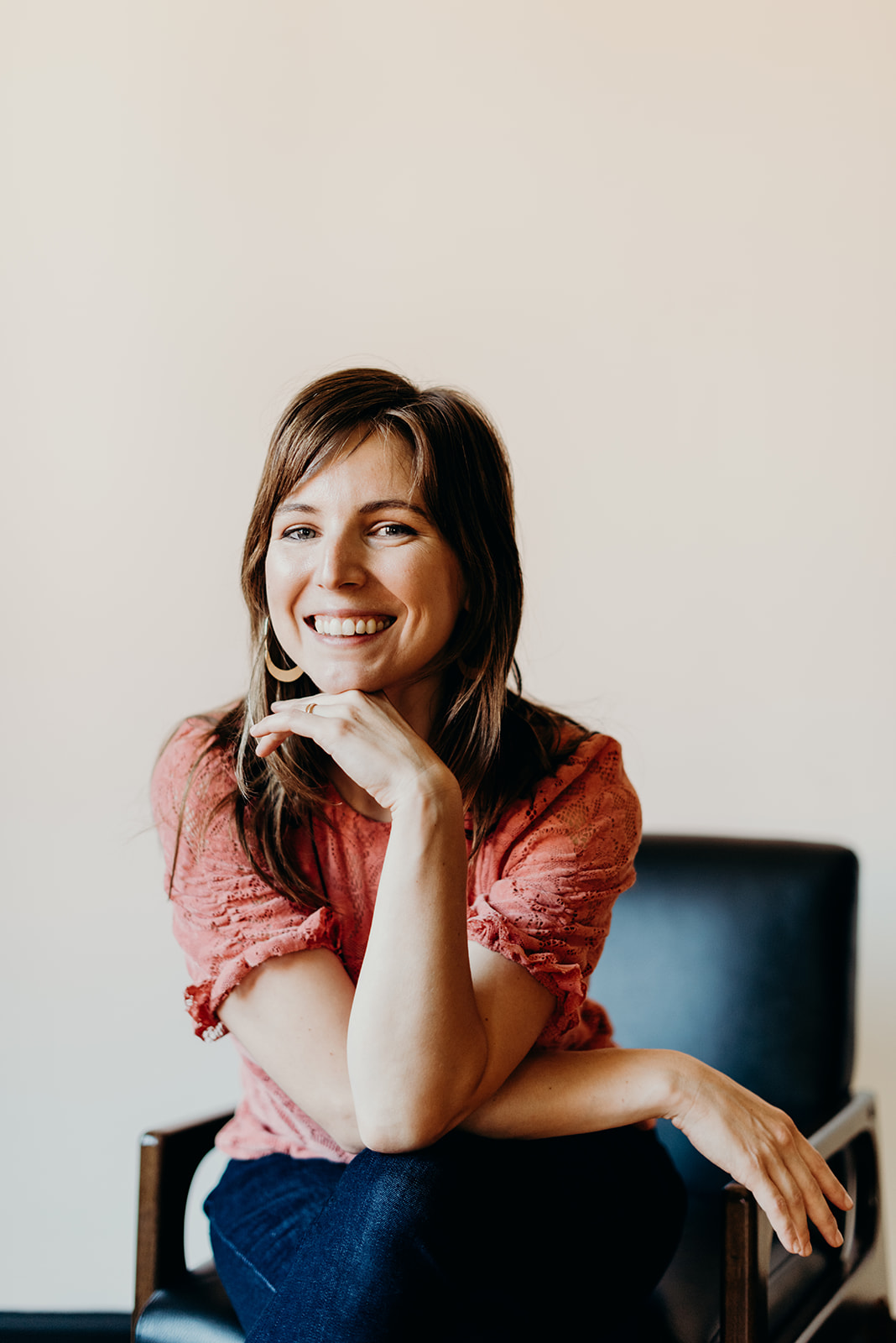 If you want to feel less stressed and anxious then you've come to the right place.
Because just like you, I used to feel SO uncomfortable in my own skin.
I constantly thought there was something wrong with me and my life that needed to be fixed before I could be happy.
And I tried everything from diets to therapy in the hopes that I'd stumble upon a magic key that would make me feel better.
But no matter what I did, I still felt bad.
I still felt unlovable.
I still felt scared.
The knot in my belly grew tighter as I kept looking for validation and comfort outside of myself.
The stress and anxiety built up until I reached a breaking point.
As Anais Nin famously said:
"And the day came when the risk to remain tight in a bud was more painful than the risk it took to blossom."
So I started learning how to blossom.
And along the way I learned how to use mind-body-spirit medicine to heal the root causes of what was making me feel stressed and anxious in the first place.
Now I'm honored to help other women do the same.
Because stress and anxiety are rooted in more than your mind.
Your mind, body, and spirit are all interconnected.
And each part of you has to be involved if you truly want to heal.
Most people can't just go to talk therapy to heal themselves.
Just like you can't lose weight and magically feel more secure.
Real healing means taking all of yourself on the journey of a lifetime.
Are you ready?
Everything about your life right now —your digestion, sleep, menstrual cycle, goals, thought patterns, habits, comfort zones, emotional triggers, even your favorite weather — everything is a sign that can point you in the direction you want to grow. 
But here's the hitch: you have to learn how to read it.
And it's not always going to be easy.
You probably already know this, or you wouldn't be here.
Your stress and anxiety are making you uncomfortable enough for you to realize that something's gotta give.
And I'm not going to lie to you and say that your problems are about to go up in a rainbow cloud of unicorn glitter.
That's not how this works.
Yes, you will be transformed.
You will become stronger.
You will look back and be SO proud of how much you've grown, accomplished, and loved along the way.
Strangers will comment on your energy because you seem so grounded, and they'll ask you how you do it.
(No joke, it happens to me all the time.)
But you've been conditioned your whole life to try to find quick and easy solutions.
And that's not what you're going to find here.
What you will find here is guidance to light your path.
You'll find support to lean on when you need it.
And you'll find resources that will help you feel confident as you navigate your own healing journey.
Because your stress and anxiety can actually be good things when you know how to use them.
And I'm here to help you learn how to do just that.
When I'm not helping other women live more joyful lives, you can find me exploring the world with my boys Walden and Téo and husband Adam.
I also love foraging for mushrooms, doing pretty much anything that gets my creative juices flowing, cooking elaborate meals for family and friends, taking the occasional Saturday spa break for myself, and listening to an endless stream of podcasts and audiobooks that get my juices flowing as I continue on my own healing and growing journey.
If you've read this far, thank you.
I hope this is just the beginning of our friendship, and I can't wait to get to know you.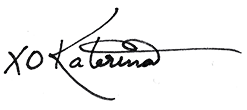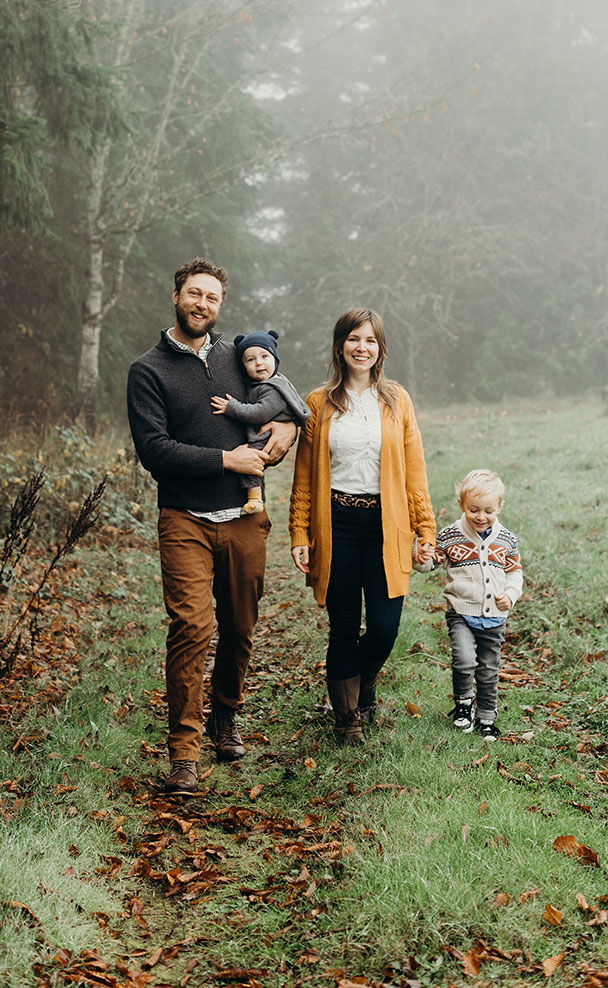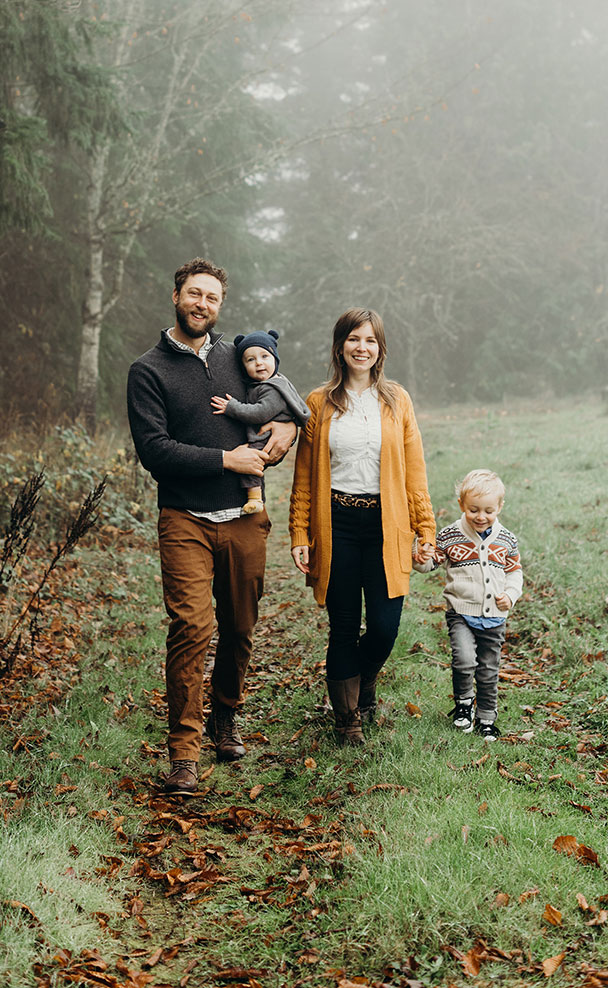 Experience and Training:
My story begins in downtown Manhattan, back when it was still more grungy and funky than chic and corporate.
I was raised by an empathetic and off-beat Austrian mother who conducted 100's of oral history interviews on Holocaust survivors over the span of her career, and a passionate Italian father who was deeply immersed in the art world and all of the beauty and chaos that it has to offer.
Despite having an innate and unrelenting creativity streak in myself, watching the popularity contests that come hand-in-hand with a career in the arts was not what I wanted to invite into my life.
So instead I imagined that I would combine my maternal interest in people's psyche's with my paternal artistry and end up pursuing a career in art therapy.
And I eventually did, but it didn't turn out the way I thought it would.
More on that in a moment.
To begin, I studied psychology, studio art, and ALANA (Asian, Latin, African, Native American) studies at the University of Vermont as an undergraduate, and then, not really knowing what to do with myself after graduation, I ended up volunteering in a middle school and on restoration projects in New Orleans.
Life in New Orleans was equal parts beautiful and traumatic, and in order to keep myself balanced (and semi-sane) I started going to yoga classes at Wild Lotus Yoga almost daily.
I was especially taken by Sean Johnson's dynamic combination of vinyasa flow and music, which felt like therapy for both my body and my soul.
As the year drew to a close, I enrolled in a master's program in art therapy, since that had been my plan for so many years and I didn't know what else to do with myself at that point.
But before that started I also enrolled in a yoga teacher training over the summer at Sonic Yoga in NYC, lead by Lauren Hanna and Jonathan Fields.
That month changed everything for me.
By the time I was at the orientation for the art therapy program I felt in my bones that something was off.
I remember crying to my mother that this was not it, this was not what I was supposed to do, but I didn't know where else to go.
I stuck it out for a long and miserable semester, fighting against my intuition every day.
I finally reached my breaking point on a subway platform in front of an overflowing trashcan.
In that moment I realized that I felt like I was an overflowing trashcan myself, and I knew without a doubt that I needed to get out of there.
I didn't know where I was going, but the next steps quickly fell into place.
The first leg of my journey lead me down to Michoacan, Mexico. I spent 5 weeks at the Bosque Village building cob houses and living only with solar power and a handful of other travelers.
There was a library of books that had been left by the previous owner, and amidst hundreds of titles I found 2 books that would heavily influence my direction in life.
The first was Christiane Northrup's Women's Bodies, Women's Wisdom, which lead me to understand that we all have the power to transform and heal ourselves, we just need to learn how to listen to our bodies and honor what we need.
The second book I found on the shelf was Ask and It Is Given: The Teachings of Abraham by Ester and Jerry Hicks, and if you know anything about Abraham you'll see why I consider this find to be divine timing. I wasn't so much enthralled by the messenger (which, quite honestly, sounded pretty weird at first,) but the value in their message was indisputable, and I still turn to it regularly to help guide me through life.
After Mexico I flew up to the Pacific Northwest to do a 10-week work-study internship at the Herb Pharm, in Williams, Oregon, where I had the privilege of learning about medicinal herbs and holistic nutrition from teachers like Deborah Francis, Dagmar Goldschmidt, Mark Disharoon, James Jungwirth, and Tyler Wauters, amongst others.
I still didn't really know what I was doing or where I was going, but I could feel I was finally on the right path.
After my internship at the Herb Pharm, I spent some time in Portland visiting a good friend who had moved there a year or so earlier.
During my visit I received a free acupuncture treatment and something inside me clicked.
THIS was the direction I was supposed to go in.
It's interesting looking back, because nothing profound happened during that treatment.
I didn't have a major healing experience.
I didn't fall in love with needles, (honestly, I'm still not the biggest fan.)
But it felt right because it was a career that would allow me to combine my love of medicinal herbs, nutrition, movement, psychology, and hands-on medicine.
I landed at the National University of Natural Medicine in Portland, Oregon, and completed a 5-year Master of Science degree in Chinese medicine.
I completed a mentorship in Japanese-style (a.k.a. gentle) acupuncture, moxibustion, shonishin (non-insertive pediatric acupuncture) and sotai bodywork with Dr. Bob Quinn, DAOM, LAc.
And I participated in a separate mentorship with Dr. Sheila Murphy, D.C., who helped me deepen my hands-on skills with techniques like craniosacral therapy, myofascial release, and visceral manipulation.
Dr. Murphy's teachings showed me that bodies and people are like pieces of art.
We feel good when balanced, and feel bad when they're not.
Dr. Murphy taught me how to sculpt bodies with my hands to help them find greater balance, which I was delighted to learn influences how they feel on emotional and spiritual levels as well.
In addition to hands-on skills, I also experienced profound transformation in my body, mind, and spirit through the practice of Qi Gong (which I like to think of as Chinese yoga).
Dr. Tamara Staudt, ND, LAc, Dr. Lauri Regan, ND, PhD, Bill Frazier, LAc, and Dr. Heiner Freuhauf, PhD, LAc, guided me through a series of ancient forms that helped me to cultivate my sensitivity and deepen my perception of Qi (a.k.a. Life force/Energy).
But my most profound experience came in Dr. Staudt's Medical Qigong class, which taught me how to listen to my body's innate wisdom to resolve blockages, heal, and transform from the inside out.
I now find this practice is inseparable from my yoga practice, and it's what I try to teach in my yoga classes.
Those weren't the only teachers who changed my life.
At NUNM I also studied under Dr. Paul Kalnins, ND, LAc, Brandt Stickley, LAc, Dr. Brenda Hood, PhD, LAc, Ellen Goldsmith, LAc, Daniel Silver, LAc, Michael Givens, LAc, Jim Cleaver, LAc, Ken Glowacki, LAc, Dr. Joon Hee Lee, DAOM, LAc, Dr. Roger Batchelor, DAOM, LAc, Eric Grey, LAc, and a handful of others who all changed my worldview, life-experience, and skills as a practitioner (and person!) in more ways than I can describe here.
I simultaneously continued my study of western herbs through Vital Ways (formerly known as the School of Traditional Western Herbalism,) where I deepened my understanding of natural medicine from teachers like Chris Smaka, Hana Jordon, Matthew Wood, Jim McDonald and Scott Kloos.
And I received regular acupuncture treatments from Beth Yohalem-Ilsley, who not only supported my health throughout my education, but became a mentor and friend who I still turn to for advice.
Those 5 years were some of the most intense and transformative of my life.
It took me some time to adjust to the relative stillness that followed.
After graduating and passing my boards I began my hands-on clinic practice, primarily at Canyon Medical Center.
I also began creating online courses, coaching, and teaching in both the Master's of Nutrition and Chinese medicine programs at NUNM.
The courses I teach combine my understanding of various healing traditions like ancient Greek medicine, Ayurveda, and Chinese medicine to provide personalized dietary and lifestyle recommendations tailored to a person's specific strengths and imbalances.
My first son, Walden, was born shortly after I started my clinic practice and I became immersed in the world of full-time motherhood while still trying to build my business.
I had my second son, Theodore (Téo), two and a half years later, and decided to add another teacher to my mix when I completed Carol Gray's training in craniosacral therapy and infant treatment with baby Téo on tow.
I now combine all of these experiences in a toolbox that I draw from to help women like you move past your own stress and anxiety.
PHEW!
That was a lot.
Did you seriously read all of that?
Then it's a good sign we should probably to get to know each other personally.
So please shoot me an email and tell me about yourself.
I can't wait to hear what you have to say.